WANDRD VEER Review
Do you have a favorite packable bag or backpack? We often find ourselves wanting a different bag at our destination…or wanting an extra bag to bring home souvenirs and gifts.
And, we are always on the search for our go-to bag. That's why, when we were approached to check out the WANDRD VEER 18L a couple of months ago, we were intrigued. We peeked at their campaign over on Kickstarter, and it totally looked like something we would use, so we were stoked to give it a try!
This post may include affiliate links. As an Amazon Associate I (The Stoke Fam) earn from qualifying purchases. Read more. We encourage you to follow all state and federal guidelines during your adventures. As status is changing rapidly, we suggest you double-check to ensure destinations are open and have the amenities you need prior to heading out.
DISCLAIMER
We received the VEER 18L in exchange for sharing our thoughts on Instagram. However, all opinions remain our own, and we have not received any compensation for this post. If you purchase through our links, we do receive a small commission – so, if you find this helpful, we would greatly appreciate it!
WANDRD VEER 18L REVIEW
That said, we loved the VEER so much, we were stoked to share it over on Instagram. But, we wanted a space to share it in more detail for you. Let's dive in with a few details first.
WANDRD VEER 18L PACKABLE BAG Specs
Material: It is made from durable weather-resistant and weather-resistant zippers.
Dimensions: 18″H x 11″W x 9″D (Packed, it's only 6″HX 9″W x 2″D)
Volume: 18L
Weight: This bag is a mere 12.8 oz (363 g)
WANDRD INFLATABLE CAMERA CUBE
Sold separately, but compatible with the VEER 18L.
Material: Made from a TPU coated polyester
Dimensions: 7.75″H x 10″W x 5″ D (Packed, the cube is 6″H x 3″W x 3″D)
Weight: Lightweight at only 4.3 oz (122 g)
FIRST IMPRESSIONS
When we first got the bag, we were impressed. We had a chance to really try it out on our trip through Yellowstone and Grand Tetons. Ladies and gentlemen, I have to tell you this bag does not disappoint!
It is a packable bag geared towards photographers but is totally flexible for anyone (aka us wannabe photogs). 😉 Not to mention, it folds up into itself, making it super easy to toss in your suitcase for use once you reach your destination. It's made with high-quality water-resistant fabric and zippers that you expect from high-end brands.
This thing is incredibly lightweight because the back support and optional camera cube are inflatable, not filled with dense foam. We weren't sure if we were going to like the inflatable support. Turns out, we shouldn't have worried. It has plenty of support and is incredibly comfortable! We both took turns trying it out, but I'm pretty sure John has claimed it for his own at this point, and I may have to get my own if I ever hope to use it.

Honestly, one of our favorite features on the entire thing is the side zip…I don't know why everyone doesn't make that a thing. Not only does it make accessing your gear without taking the bag off easy, but it also has a theft-deterrent clip to keep your valuables safer. Genius, I tell you!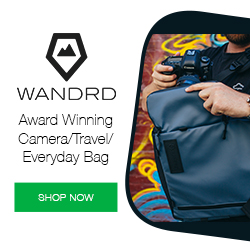 PROS
Durable: Right off the bat, we noticed that the bag is made from a super durable material that you expect from high-end outdoor gear companies.
Lightweight: Super lightweight, which comes in especially handy if you're packing the VEER in your suitcase when flying!
Packable: Folds up into itself…and it's only 6″x9″x2″ when packed!
Quick Draw side access: This feature is one of our favorites, and we think every backpack should have this option. It makes it super easy to reach into the bag without having to take it all the way off.
Inflatable back support: Okay, so we actually had low expectations for this. We didn't expect it to provide enough structure or to actually be comfortable. However, we were wrong!
Key clip & expandable water bottle pocket: These are things everyone pretty much needs every day, and we love when a bag takes the essentials into account.
Extremely versatile: So far, we have used this bag hiking, camping, and for plane travel. It's quickly become our favorite that pretty much goes everywhere we go.
Comfortable: Surprisingly comfortable and easy to wear for both John (at 6′ and me at 5'6″). It's not often that we both like the same bag.
Compatibility: We love that this can be combined with their inflatable camera cube making this super light combo to protect our Sony A6400.
Ventilation: The ventilation on the shoulder straps and back of the bag keeps you cooler than a lot of other packs we've used.
Warranty: A lot of companies won't fully stand behind their products anymore. WANDRD is not one of those companies. Their Wander More, Worry Less Guarantee is right on their product page – no hidden fine print. Just commitment to stand behind their products and workmanship."No need to worry. Ever." I don't know about you, but that says a lot to me right there!
CONS
Protection: It provides reasonable protection as long as you are in control of the bag. We would not recommend this for checking baggage with cameras inside….although, we really don't advocate that anyway…airlines can be waaaayyy too rough with your stuff. Just know it doesn't provide as much protection as a hard-sided or foam case.
Limited Options: We actually really like our Rust VEER, but we'd love a few more color options and came in additional sizes….maybe something slightly bigger.
Top Opening: The top access into the bag is a little smaller than we're accustomed to in a backpack. However, if you load from the side, which we typically do, it's a non-issue.
Shoulder Straps: While they are comfortable, the shoulder straps are not as padded as they could be. This is fine if you use the bag as intended, but if you start loading it down with heavy items, they may begin to dig in a bit.
We are stoked with this bag and WANDRD as a company. So much so, that we are actually contemplating a second one. And, when it's time for new travel bags, we know that WANDRD will be in the running with the other items in their line, such as the HEXAD Access Duffel Series or their PRVKE Series.
All in all, the VEER 18L is a durable, innovative bag that will not keep your gear protected while you are out and about. If you're a photographer, make sure to grab the optional Inflatable camera cube to add extra protection to your camera. Although we do wish that the bag was a hair bigger, it fits the essentials for daily outings, and we think it is an excellent option for travelers and photographers alike.
OUR COMMITMENT TO YOU
Last, but not least, we want to leave you with our commitment to you. We've actually been approached by a lot of companies to review or share about their products. And, we've actually turned down a lot more than we've partnered with. Seriously. A lot more.
Our email is full of companies who want us to share their products. I'm sure a lot of them are great…and, maybe some of them aren't. However, you can rest assured that when you see a post like this from us, it's because we actually love and stand behind the product. And if we don't? We're gonna tell you why.
Oh, and you're not going to find any reviews for $300 face creams or the newest video game console here…no matter how much they offer to pay us. Now, $300 snowboards…that's a different story! 😉 (And, that would probably be a killer deal you should jump on!) You're here for travel, outdoor adventure, and homeschool content. And, the products we review will always line up with that.
QUICK LINKS
If you're wanting more information or are ready to purchase your own, here's some quick access links for you. No need to go hunting back through our post!
What do you think? Does this sound like a bag you would use?
WANDRD VEER Review